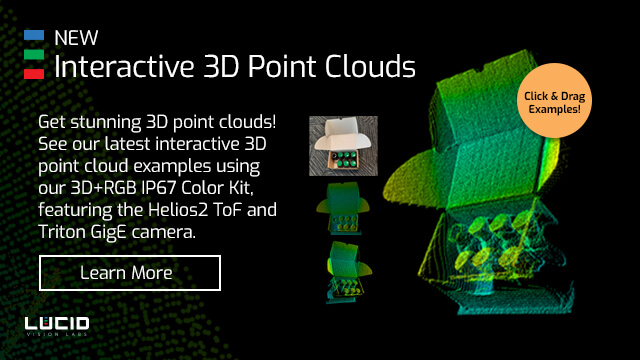 New Helios2 Interactive Point Clouds
Adding RGB data with a second camera to overlay a 3D point cloud allows you to pinpoint your objects more effectively for your pattern recognition or detection algorithm. See our latest interactive 3D color point cloud sample files using our 3D+RGB IP67 Color Kit. It allows you to create stunning point clouds, and the kit includes the Helios2 3D Time-of-Flight camera, the Triton 3.2 MP color camera, lens, lens tube, bracket, cables, and multi-port GigE interface card.

Laundry soap: point cloud with RGB overlay
Product Updates
Triton Edge - Coming in H2

Made for engineers and developers wanting to build their own camera IP with unique image processing but without the need to start from scratch. The Triton Edge is an all-in-one edge computing camera, featuring Xilinx's Zynq Ultrascale+ technology with multi-processor fuctionality and user programmable FPGA accessibility. If you are interested in developing your own on-camera application, please sign up to learn more about Triton Edge.
Arena SDK & Python Updates

The latest version of Arena is now available with significant upgrades to the Arena SDK core. In addition, our Python bindings were updated to work with the latest ArenaSDK release, supporting Python on Linux/x86_x64, Linux/ARM, and on Windows. Visit our downloads hub.
New Resources
Knowledge Base Article: Using ADLINK PCle-GIE72/74 PRO with Trigger Over Ethernet (ToE)

Learn how ADLINK's Smart GigE Tool is used to send Action Command to software trigger LUCID cameras and display in ArenaView. ADLINK's PCIe-GIE72/74 is PCI ExpressR x4 lane, GigE Vision PoE+ (Power Over Ethernet Plus) frame grabber supports 2/4CH independent Gigabit Ethernet ports for multiple GigE Vision device connections with data transfer up to 1 Gb/s per port.
Video Presentation: Inspection with a polarization sensor

In this presentation show some examples of various inspection materials using polarization cameras. These include plastic scratch, stress, liquid, and shape inspection. Also showing examples of night time imaging using polarization cameras. Presented by LUCID's Torsten Wiesinger, General Manager EMEA.
Event Updates
VSD Webinar - 3D inspection for Automotive Transmission Components

May 12, 2021 - This webinar will examine 3D inspection for transmission parts and for electric vehicles (EVs), for real-time feedback on dimensional and defect information, which improves part quality and production yields. Discussion on market needs and 3D inspection case studies for inspecting gears, traction motors, brakes, and clutches.
| | |
| --- | --- |
| | Follow us on Linkedin and Youtube for more of the latest updates on technological innovations & resources by the LUCID Vision Labs team. |
| | |
| --- | --- |
| | Webstore Orders Made Easy. LUCID offers the convenience of a webstore to easily purchase our full line of cameras and accessories from the US, Canada, EU, Australia, and New Zealand. A future expansion of our webstore is planned to other countries as well. Stay tuned! Visit Our Webstore. |